A video that was shared by @mediagist on Instagram shows the moment a lady disrupted a wedding, claiming to be married to the groom. What was meant to be one of the happiest days in the life of a lady turned out to be pretty embarrassing and devasting when her groom's huge secret was exposed.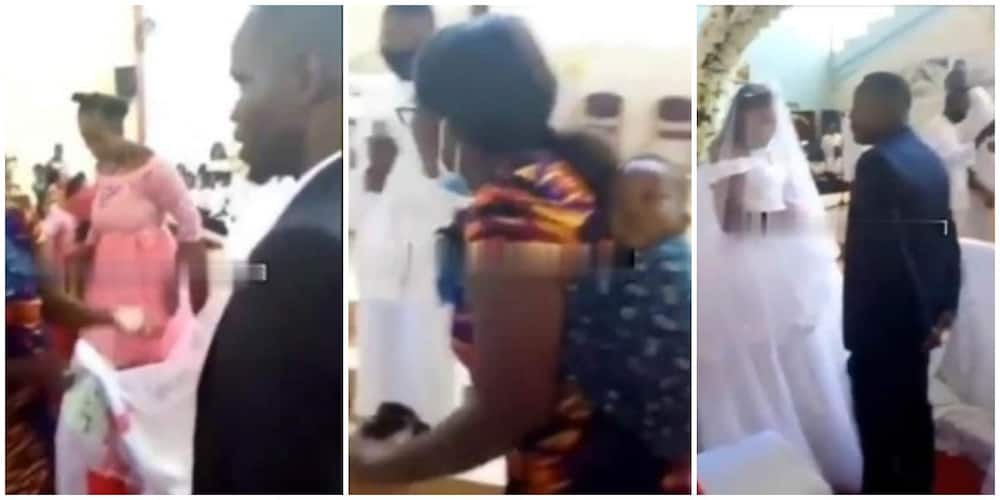 The woman claimed to still be married to the groom. Photo credit: @mediagist/Instagram Source: UGC In the video, the woman is seen disrupting a wedding ceremony with a baby tied to her back. 
She claimed they were not divorced and there was no issue between them. The woman added she did not know why he should be getting married to another lady while she already had children with him. 
In a separate story, the wife of a cheating husband had the bath of her life after she was pushed inside a swimming pool of a hotel during an unexpected confrontation. In the video, a woman who appeared to have been suspecting her husband of cheating confirmed her suspicion at a hotel.
While the husband and his girlfriend were having some fun at a hotel, his wife who was tracking them all along showed up and started demanding explanations. In a matter of minutes, the issue escalated and all three people involved in the scuffle were up on their feet and speaking on top of their voices.