Churchill Show Comedian Zainabu Zeddy broke into tears on Saturday, August 1, as she narrated the hardship she faced in different stages of her life while appearing on NTV's Unscripted With Grace Msalame.
In her narration, Zeddy indicated that she had suffered immensely in her life which sent her into depression.
She disclosed that when she conceived her second child, everything was smooth until delivery day when she had a still birth.
"When I was taken to the hospital, the doctor ran a check-up on me and determined I was ready for delivery but since beds were full, I was asked to spread a sheet on the floor.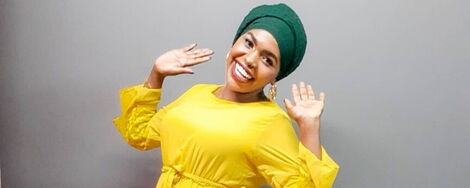 Churchill Show comedian Zainabu Zeddy poses for a photo in March 2020
Instagram
"I refused and called my husband to take me to another hospital," she narrated indicating that when she arrived, she was taken for delivery right away.
"They checked my baby's heartbeat and it was fine but when I delivered, it did not cry. The doctor's took the foetus and put it in a box and pushed at the corner and then they asked me, "will you carry it home," she added.
He later attempt at inquring on what happened to her baby, she says, was met with a rude response from a doctor who was attending to her.
"Losing my child was really painful because, I had recently lost my dad and was planning to name my baby after him," she noted.
Later on, after she reunited with her boyfriend, Zeddy would suffer further humiliation two months into their re-union.
She disclosed that when they re-united, she fell pregnant and two months later, her boyfriend left their house to be with another woman and took several possessions including a gas cylinder with him.
At the time, she also noted that her work at the show had slowed down as the manager repeatedly informed her that the list of presenters was full.
Her only solace was in a matatu she owned and a restaurant in Umoja, Nairobi. The matatu, a 14-seater, would later be involved in an accident while her restaurant was going under.
She revealed that she lacked food and at times she would call her brother to bring them food remains from the hotel that would serve as dinner.
"My head was aching day and night and I was pregnant at the time. It was during the month of Ramadhan and my neighbour would send me sugar and other goods. If she failed to send, we would have gone hungry. But we did not.
"My husband took property including the gas cylinder. I reached out to my friends to help me out but they did not. I was left with the microwave where I would warm tea and cocoa which was what we survived on," she narrated.
She, however, reached out to more friends who bailed her out of the predicament. She revealed that she had not attended clinic for six months and one friend offered to take care of all her maternity costs.
From her experience, she advised men to speak out whenever they were facing depression noting that the society had forced them to bottle up their feelings which she attributed to increasing suicide rates among menfolk.
Below is the video of her narration:
"I had to swallow my pride and tell my friends what I was going through"

Zeddy shares her lowest moments when she and her kids almost slept hungry. #UnscriptedWithGrace pic.twitter.com/da9py8l13t

— NTV Kenya (@ntvkenya) August 1, 2020